Views from Vacation: Vol. 1
Since I got married and all last month, you could say that I've been on my honeymoon and in the honeymoon phase. Ain't that just like a newlywed? After the ceremony, you just fall off? Actually, right after ordination, I had the flu, then I got flewed out.
I wrapped up our February series, "The Exchange." You can watch my message on ChannelOne on my TasharaTV page! After that Sunday, I took a break and traveled! Finally. I LOVE to travel, but lately I haven't had the motivation or the time. Over the weekend, I did two of the things that I love the most. I traveled and I went to a concert. My best friend whom I love dearly adores Mariah Carey. He loves her in the same way that I love Kanye West. Since he suffered through YEEZY Season with me, I returned the favor and went to the Caution World Tour with him.
View #1: Delayed Destinations
There were so many delays hindering us from getting on the road and even from getting home. The night before leaving for the concert my car wouldn't start. The day of the concert, I had a flat tire. Coming back home there were many delays, but the longest was my tire blow out.
Chile, look at my tire! I think I referenced this in my "Hello, It's Me," blog, but anger is my go to emotion. It comes from a place of hurt and abandonment. My anger stems from being a young girl always fighting for herself. Always trying to survive. With these delays over the weekend, you'd think that this would have been me.
But. It wasn't. It was shocking to me. Many things were shocking to me while on vacation. I'll discuss other things more in-depth later. For now, let's discuss my relationship with Time. Before vacation, I would have most definitely said that Time and I had a love-hate relationship. However, while on vacation, I was enlightened.
It isn't Time that I have an issue with. It's the plan for my life.
While on vacation, I was able to lay in bed at 6 PM and really think. I didn't have a specific place to be at a certain time. I didn't have to set an alarm to get up the next morning. I didn't have any responsibilities. My only concerns were the cornbread and alligator sausage gumbo I was eating and who was going to win the Celebrity Chef edition of Guy's Grocery Games.
Live footage of me:
I haven't been carefree in so long. It was uncomfortable in the beginning. Stress can become a crutch. I discovered that I had been unconsciously leaning on stress for support. I'd gotten so acquainted with anxiety, shortness of breath, panic and irritation that without it I felt vulnerable. Insecure, even. I've found security in holding on to things that are hurting me. Apart from pain, pleasure felt like a privilege instead of a right.
Because anger is my go to emotion, I've been in several fights in my lifetime. I've stayed in a constant battle with Time because I can't control it. I can't fast forward. I can't rewind. I can't even pause. All I can do is play and if I'm being transparent, I feel like Time has been playing me!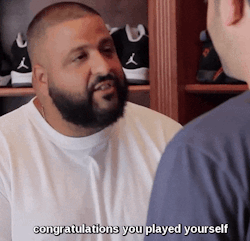 My beef with Time isn't about second, minutes or hours. It's about my inability to control the plan for my life. Control is rooted in a lack of trust. Time isn't the issue. Trust is. I had to have a come to Jesus WITH JESUS! I presented my plans to Him and the desires of my heart. It was there that I understood Psalm 37:4-5,
"Delight yourself in the Lord, and He will give you the desires and petitions of your heart. Commit your way to the Lord; Trust in Him also and He will do it."
To delight myself in the Lord would mean that at the core of my heart, my desires would take a backseat to His plans and His timing. Delighting myself in Him would mean that His will would trump mine. Committing my way to Him would mean to surrender my thoughts and my plans. Trusting in Him means that no matter how long it takes, no matter what my situation looks like, I will maintain my faith and firmly stand on His promises because He will act.
Instead of being upset with the many delays of this weekend, I decided to be grateful. Surely there was a plan for it all—even in the $106.13 that I spent on a tire. In the end, it all worked out and I made it to each destination. I might not have taken the path that I planned, but the path that was set out for me got me there. And that is the position of perception that I will take going forward in all situations in my life. The path might not be what I've planned, but the path planned for me is part of His good, pleasing and perfect will.
Don't doubt or despise the delays in your life. Each delay is divine. Each path you will take is perfectly planned. Change your perspective of the plan. If you think of each moment as ministry—Time will never be wasted.
<3,
TJ